WHAT'S CURRENTLY IN THE SHOP:

Stock is always coming in and going out of the actual shop,
so if you can't find what you're after, check back every few days.

(Also there're are only so many hours in the day,
so items may have been sold and not marked here yet.)
Last update: 7th Oct 2018


Benson GA10 Practise Amp £25


 

Peavey Rage 15W Practise Amp £45

 
 


  Rank RA 210 Vintage Stereo Amp £60


 

Rhino Bass Amp RBA15 £80

 
 


  Stageline PA550 Power Amp £60


 

Ramsa WP 9110 Power Amp £60

 
 


  Sony F417R Stereo Amp £120


 

Marantz CD Player CD 4000 £30

 
 

  RockNRollRescue Tee Ladies Small signed
by Sylvain Sylvain and Alison Gordy £45


 

RockNRollRescue Tee Ladies Small signed
by Sylvain Sylvain and Alison Gordy £45

 
 

RockNRollRescue Tee Ladies Small signed
by Sylvain Sylvain and Alison Gordy £45



Signed Dickies Tee Mens Small £25


 

Steve Conte -NYC signed CD £30



Gemini PS-626i DJ Mixer £40



On Special Offer:
| | |
| --- | --- |
| Collectible 1960's Kay Concorde Now Reduced to £120 | Encore Single humbucker now Reduced to £45 |
More Guitars below :-)
TeeShirts
We have a lot of Primal Scream tee shirts in stock, that were donated by the band themselves as well as some new Rock 'N' Roll Rescue Teeshirts. The Primal Scream tee shirts start from £5, The Rock N Roll Rescue tee shirts are £10. We also have a number of XRay Spex teeshirts which are £10. Also in stock are a number of unique custom made teeshirts, pop in to the store to see them. :-)
The Primal Scream tee shirts are available in S,M,L,XL and ladies S as are the Xray Spex Teeshirts.
XRay Spex £10

Various One Off Custom made
Tee's from £10


Anti Nowhere League Tee
Various Sizes
£10


Ladies!

:-)

Small Tee £10



Hand Painted Teeshirt Size M £30




Various band Tshirts
£4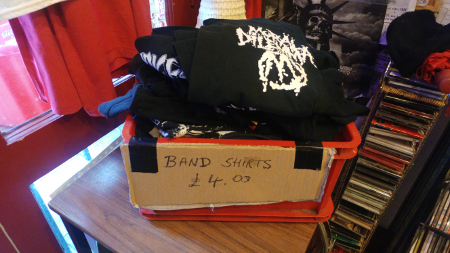 Drums and Percussion
Bass Drum Pedals - L-R £10 £20 £50 £50 £20 £20
Various Drumheads for £5 each (larger ones also
available for £10 each)


Cymbal Stand - £10

Guitars and basses etc:

 Most of the guitars are set up by genius guitar guru 
Philippe Dubreuille
so they play very well.
(Note: you won't be able to blame the instrument if you play badly!)
Acoustic £70

 



 Vulcan Bass £85


  Elevation 3/4 size (or less) Strat copy£65




Rockwood 3/4 size (or less) Strat copy £70



  Godin Radiator
Fitted with Gretsch White Falcon Pickups £350





Masano 1980's Japanese made Acoustic £80


 





Fender Squier Bullet Almost NEW £120




Elevation Strat £75


Fernandes Strat with humbucker
and built in
Sustainer £300 Bargain at this price!!



Wesley 24 Fret Guitar £160





   Acoustic £35


 



Wesley bass £200




Amps:

Ibanez 10W Practise amp £80


  Peavey "Backstage" 10W practise amp £25


Peavey Rage 15W Practise Amp £45

 
 



We also have a wide range of guitar strings starting from £5. The cheapest in Camden!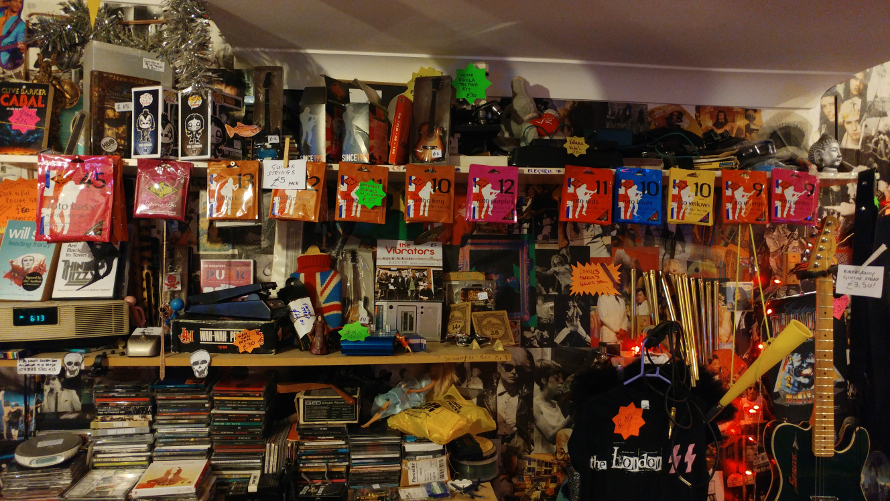 | | |
| --- | --- |
| £1700 | £1300 |
| £ P.O.A Contact Philippe | £2500 |
Effects pedals
  DOD Basstec Bass FX Unit £100


Danelectro FAB Distortion Pedal £20

 
Haunted Japanese guitar - SOLD!

Yamaha E303 Keyboard £45

Electronics:
Technics Cassette Deck RS-B305
£20

Hitachi SDT-7785 £240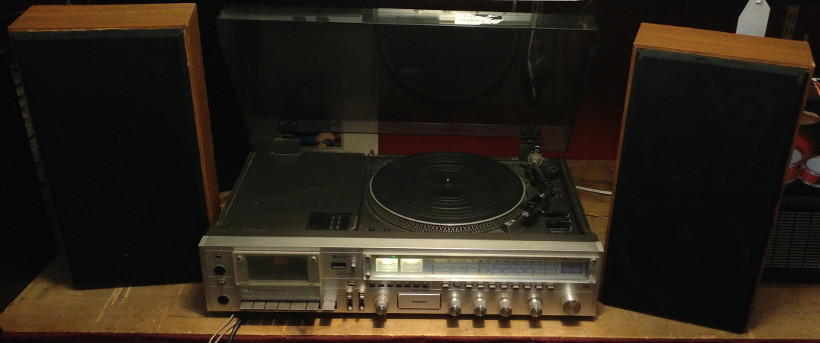 Technics Music Centre £150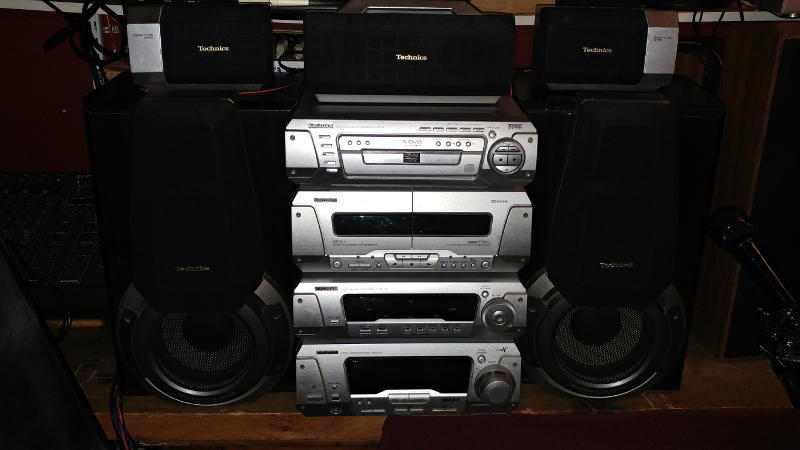 Custom Turntable with USB socket £40
Callaro RC456 Vintage HI-FI
£90

Ion "iProfile" USB turntable £50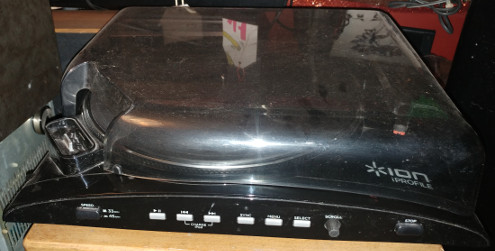 We also have :-
Gemini XL-300 turntable  £55
Sony DTC working DAT player  £60
Miscellaneous
| | |
| --- | --- |
| £25 | Various music books and magazines |
Cheap and Cheerful Jewellery - £ Various

£25

Kiss Figures £65 each



Beyerdynamic Soundstar MKII Microphones £70

  Customised 'Clash' Jeans size 34
£20

Metal Treasure Chest £70
Posters: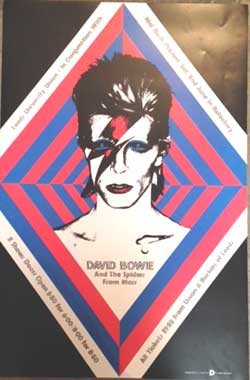 Dead Boys, David Bowie, Bruce Springsteen, etc.

Records and CDs:

We've got masses of vinyl, DVDs and CD, always changing.

Clothes and boots/shoes: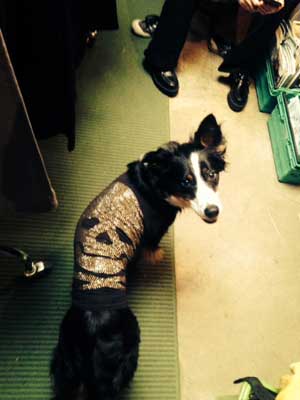 (Above: Lollipop heading for a night out!)
We've currently got an enormous amount of Goth/"Rock Chick" clothes and shoes and boots. We also have lots of band T-shirts, regular T-shirts, including Camden ones made by a local, and please check out the ones customised by our volunteers!

Plus we have hundreds of 80's/90's NME's, SOUNDS and MELODY MAKER's. Come in and take a look!!
---