Stock - check the latest stuff in! - continually being updated.
Art in the shop
Events in the shop
Requests
Ideas wanted for the shop
The shop also offers:
Guitar Rescue - (setting up, repairs, customising) - Philippe Dubreuille: 0791 5058214
Audio Rescue - (repairs to record players, stereos, DJ equipment, etc.) - come in and speak to us.


We are helping local people through supporting the local food bank, helping the womens' refuge up in Kentish Town, helping people at the bottom end of the welfare system, and have been helping Jennie Bellstar's Hari Krishna food van, etc., etc. The last tthing we gave money to was to help bees! There is an ever growing list of stuff that needs help. (Look around you!)
WE ARE NOW AN OFFICIAL CHARITY!! (Reg. Charity No: 1162829.)
MORE VOLUNTEERS ARE NEEDED!! Please come and do a few hours in our little shop. We almost always need more people, and it's good fun and we help to support worthy causes.

John is looking to record a new album and has a kickstarter project to help fund it. Click here for details.


NEXT EVENTS:

Sat. 21 Oct. - POLYFEST - an all day festival in the Dublin Castle, and Rock 'N' Roll Rescue, in aid of the shop.
Check out this Q & A with Tony Gleed (Bugbear promotor and Soho Radio DJ) here. Plus album reviews of bands playing here.

Polyfest! In Memory Of Poly Styrene + RocknRoll Rescue Fundraiser with... Dr And The Medics, Anita Harris, Ricky Vallance (Tell Laura I Love Her) + Freak Party (Ex Smiths), Intastella And Jah Wobble, Gary Clail, Dead Audio Saints , You The Living Featuring Dave Barbarossa (Adam And The Ants/Bow Wow Wow/Republica) + Dominique Oliver , Youth (Killing Joke/The Orb), Saffron-Republica, Then Jerico, Imagination's Erroll Kennedy, Toto Cuelo , Knox (The Vibrators), Melanie Williams (Sub Sub), The Shakespearos + Dust Junkys Collective (Nicky Tunes), The Homosexuals + The Stems (Ex The Fall, Pixies, Gorilla, Elbow), Nick Aslam, Mankind (Dr Who), David Live (Bowie Tribute), Bobbie Peru.

£20 advance, £20 on the door. Doors open 3.45pm, runs until late!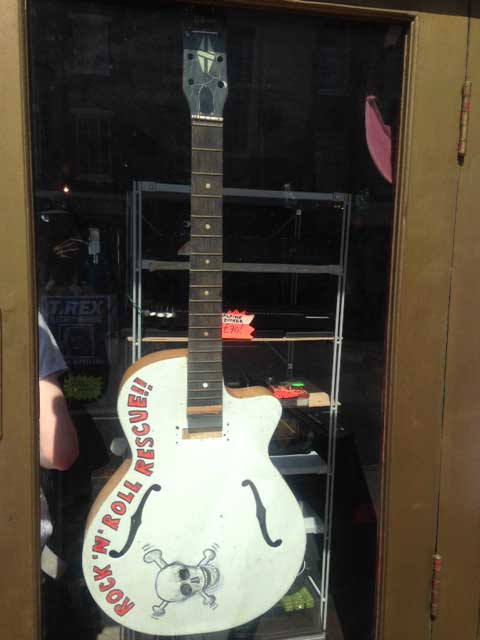 Rock 'n' Roll rescue guitar!




WHAT WE WANT:


guitars and bass guitars - we really need lots of these, especially acoustic guitars
keyboards
amplifiers - we need small combos
speakers
old record players
effect boxes
effect units (rack)
computer stuff
microphones and stands
drums
leads plus connectors
PA stuff
recording stuff
books/mags/fanzines
posters
gold records
CDs/vinyl/cassettes
clothes - incl. band shirts, etc
shoes

WHAT WE SELL:
(all the above, and more!)

THE AIMS OF THE SHOP ARE TO:
help the local food bank (Trussell Trust)
help people at the bottom of the welfare system
help the womens' refuge up in Kentish Town
give kids musical instruments
help animals, including cats!
help Black Dog mental health charity
help ill kids
help bees
help homeless people (not homeless hostel shareholders!)
help fund a group in Camden which tries to help people in local mental hospitals who are not well catered for by the current system. (At the moment if you were on medication which kept you asleep until say 7.00pm you would have missed the evening meal and wouldn't get anything to eat until the following morning. If you're only in for a few days probably not so unbearable, but if you're in for a long time and didn't have someone to look out for you it would be pretty awful.)

See our FaceBook page: ROCKNROLLRESCUECAMDEN where there are lots of photos and additional information.