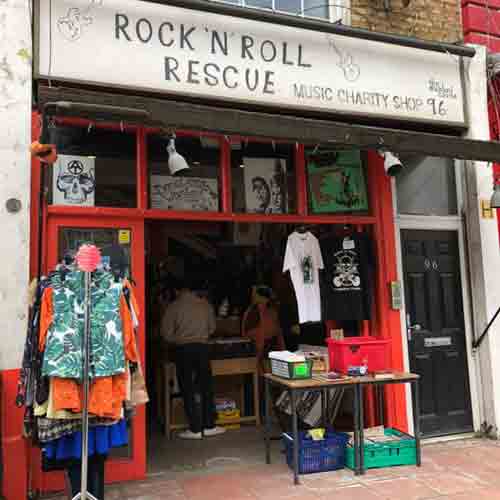 We are Now On
Amazon Smile :-)
This means, that once you register your Amazon account with the above link, (almost) everytime
you shop at Amazon, they make a donation to us at no extra cost to you!
You can now make a donation to the shop. Click below:
We now have an EBAY shop :-) All proceeds go to Rock 'N' Roll Rescue
Click Here to visit the EBAY shop

Stock - check the latest stuff in!
Art in the shop
Events in the shop
Requests
Ideas wanted for the shop

Bands/ Musicians and other Performers who would like to perform at one of our charity events
please contact parkwaypack.promotions@gmail.com with links bio etc.
We have a new in house luthier -- Biliby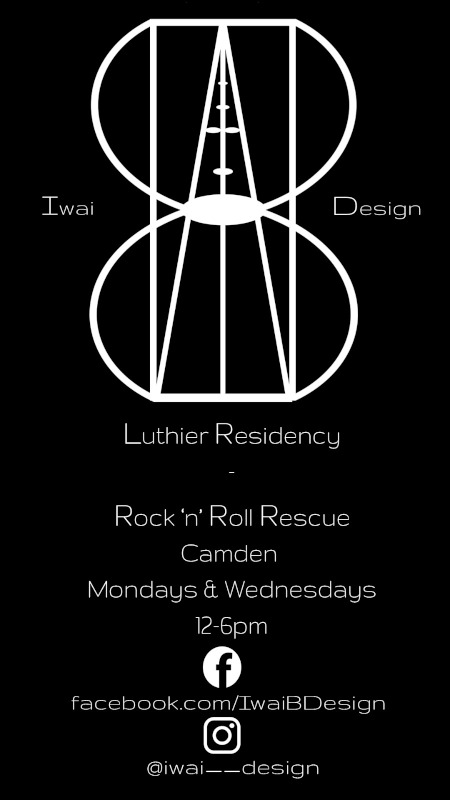 We are helping local people through supporting the local food bank, helping the womens' refuge up in Kentish Town (Crossroads Women), helping people at the bottom end of the welfare system, and have been helping Jennie Bellstar's Hari Krishna food van, etc., etc. One of the last thing we gave money to was to help bees! There is an ever growing list of stuff that needs your help. (Look around you! Covid and Brexit!!)
WE ARE NOW AN OFFICIAL CHARITY!!
WE ALWAYS NEED MORE VOLUNTEERS, ESPECIALLY DURING THE WEEK!
Please come and do a few hours in our little shop. We almost always need more people, and it's good fun and we help to support worthy causes. Pop in and talk to us or leave your contact details.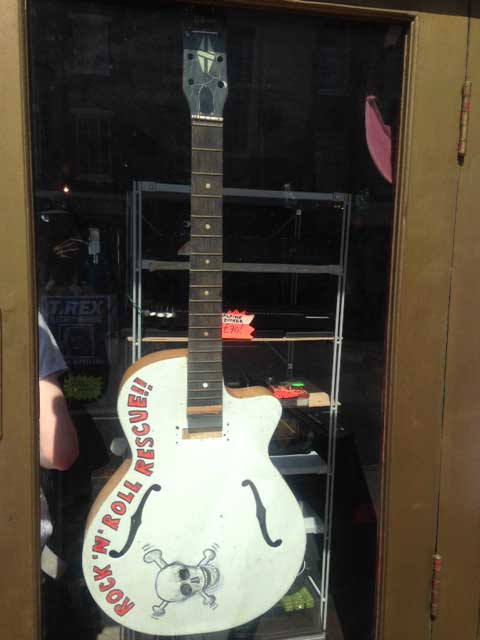 Rock 'n' Roll rescue guitar!




WHAT WE WANT:


guitars and bass guitars - we really need lots of these, and acoustic guitars
keyboards
amplifiers - both large and small
speakers
old record players
effect boxes
effect units (rack)
computer stuff
microphones and stands
drums - kits, bits and pieces, and percussion
leads plus connectors
PA stuff
recording stuff
books/mags/fanzines
posters
gold records
CDs/vinyl/cassettes
clothes - incl. band shirts, etc
shoes

WHAT WE SELL:
(all the above, and more!)

THE AIMS OF THE SHOP ARE TO:
help the local food bank (Trussell Trust)
help with mental health (Mind of Camden)
help people at the bottom of the welfare system
help the womens' refuge up in Kentish Town (Crossroads Women)
give kids musical instruments
help animals, including cats!
help ill kids
help bees (London Beekeeping Association)
help homeless people (not homeless hostel shareholders!)


See our FaceBook page: ROCKNROLLRESCUECAMDEN where there are lots of photos and additional information.